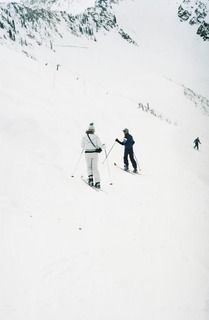 It's that time again. Too tired to fuck with the WIP anymore, the wife is asleep upstairs, and
run
rum is warm in my tummy. Sometimes the run has taken a little too much of my self-restraint, and I find myself rushing down here in the morning to erase whatever petty, bitter bullshit I posted the night before. If you look at the times these posts are made, in American time, they're pretty much all around 10-11 p.m., right before I go to sleep. Not exactly my best work, but if I'm lucky enough to land an agent upon completion of my WIP, I'm pretty certain said agent will demand that I pull this all down anyway. It doesn't matter, it's chathartic, and that's all I really want, that and to keep the two followers abreast of my status so they don't think I've surrendered to self-doubt and packed it in.
Those are my friends Mark and Bonnie on the slopes of Utah. I don't remember the year, but it was before I was gray. I never hear from them any more, and I'm pretty sure it's my fault. I'm too lazy to maintain relationships properly. I'd rather be home...doing this. I assume that means I'll die alone in some filthy home for the incontinent with the bad linoleum, and staticky black and white TV, and a big hairy nurse named Gertruda slapping me when nobody is looking because she doesn't like the look I give her when she doesn't clean the shit out of my diapers in a timely manner.
Okay, maybe that's going overboard.
I may be suffering a touch of irritability at turning fifty this coming Monday. There isn't much I'd change over the past fifty years, except I wish I would've danced more.