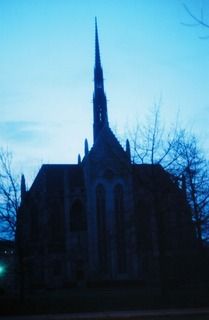 Okay, I'm not the least bit religious. Agnostic by choice. But I'll take a little help with chapter 11. It started out as a 12,900+ chapter, and I have it under 11,000 words. Only 7000 more to cut.
It's actually not that bad. What happens is that I write several versions of the same scene, put then in the file for that chapter and then merge them together, keeping the things I like from each version, so I know where 5000 of those words will come from. But not the other 2000. I thought about stretching it into two shorter chapters, but discarded that notion. Too much other stuff to get to, and I suspect I'd have to cut that many words one way or the other because I'm determined to keep the whole thing under 120k. Yeah, it's a silly arbitrary number, but as of now, I intend to query agents and try to go traditional pub route 66. (Which makes it something other than arbitrary, I guess)
p.s. Haven't been able to post comments on anyone's blog for a few days. I don't know what Google's problem is, but it's pissing me off.