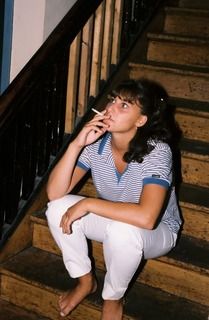 I took part in an interesting conversation on Absolute Write yesterday. Someone asked whether or not they risked losing readers by making the MC gay.
First, I'd say that introducing the element of sex in the slightest will carve away potential readers, as will not introducing any, because some element of sex and love is big to many people. The second a character is identified as gay or straight, you risk losing the readers who don't want to read about either one or the other of those. And it's not just people who are bigoted against gays or on a gay crusade. Your job as the writer is to try to drop the reader into the fictive dream, that state of mind in which the reader loses himself in the book, loses touch with his surroundings, and for all intents and purposes becomes the MC.
The moment it happens, the reader feels what the MC feels. Wants what the MC wants. Now, there will be varying degrees to which a reader is willing to become someone who thinks in a sexual way about someone they would not themselves be interested in. Straight men will want the MC to want women. Straight women will want the MC to want men. Gay guys will want the MC to want men. Agreed?
Most people, I believe (no research was done to come to this conclusion) will tolerate an MC who does not want what they want, as long as the narrative and dialogue don't get too graphic. In my case, I can read a book with a woman as the MC written in her POV, and I have no problem if she embraces a man, if they kiss, things along those lines. But as soon as the POV character does something that gets graphic such as rubbing the guy's crotch and grabbing his hard on, it drops me out of the fictive dream. My mind's hand wants to pull away. I don't want a guys dick in in my hand. It's instinct. For all intents and purposes, it ruins the book for me. I put it down. I don't go on to tell my friends what a great book it was. Word of mouth does not promote the book.
It's a fine line. I don't know of anyone who doesn't love the gay guys in Four Weddings and a Funeral. But it never got graphic. People loved the sitcom Ellen. They didn't mind knowing she was a lesbian, and enjoyed the show. Then she kissed a woman, and the show lost a portion of the audience. It may be a portion of the audience she couldn't care less about anyway, but ratings dropped. There are consequences to showing sexuality. If you're willing to accept losing that portion of prospective clients because you feel the need to make some sort of a stand or want to make your work realistic in some way, more power to you, but understand that no amount of political correctness training will change the physiological responses in the brain of the reader. They can't help but react the way they will react. It's wired into their nature. It's no more a choice than being gay is a choice.
I have a confession, I would like to make money by selling what I write some day. There, I said it. I have no nobler reasons for writing. I have no political agenda. I have no social agenda. That means I want the biggest audience I can get. The second you get graphic with a sex scene, you WILL lose readers. Now, you may also make the book better for those who share the MC's sexual orientation, but probably not for as many of those as you may think.
Think long and hard before you get graphic.